Beginning today, September 21, 2020, restaurants in Texas may operate for dine-in service up to 75% of total listed occupancy inside the restaurant.
Although the occupancy can increase, patrons and groups must maintain at least six (6) feet of distance from the other patrons or groups at all times, including while waiting to be seated in the restaurant.  However, the six (6) feet of distance between groups seated at different tables is not required if the restaurant provides engineering controls such as a partition between tables.
Cornerstone builds custom partitions to integrate with existing color and design schemes.  Cornerstone uses stain grade poplar and provides either a frosted or clear acrylic option.  All sides of the screen are designed with at least 1/2″ grooves for increased screen strength.  The screens are screwed into the existing booth wood and can be anchored on the side for increased strength.
The top of the screens must be at least six (6) feet above the finished floor.
Contact Cornerstone FCE Services to get pricing to manufacture and install custom wood and acrylic booth screens.
866-567-3193
chris.hellerman@cornerstoneFCEservices.com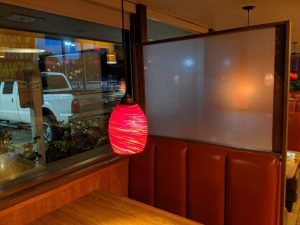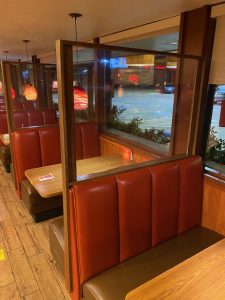 Governor Abbot's Press Release:
https://gov.texas.gov/news/post/governor-abbott-expands-capacity-for-certain-services-in-texas-announces-guidance-for-nursing-home-long-term-care-visitations