Choosing the property for your remodeled restaurant is one of the biggest decisions you'll ever make. So don't rule out any options too quickly. In fact, here are five reasons you should take a second look at older non-restaurant properties.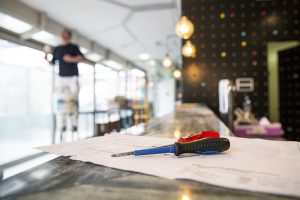 1. You have a blank slate.
Restaurants need to face increasingly stringent standards. Working with a blank slate means you can build your restaurant up to current code. There's no risk that you're working with a bad buy or an older restaurant that's only partially ready for business.
Also, you can design the space to fit your needs. Design your dream kitchen, counter, seating space, and organization to match the twenty-first century's dining demands.
2. Historic buildings have more appeal.
No matter where you are, historic downtown districts appeal to visitors and local residents. Not only can you capitalize on the charm, but your restaurant is also going to be right near stores, boutiques, and farmers markets full of people spending the day in town.
3. Your city may offer grants for preservation efforts.
Most cities know that historic downtowns are good for commerce and tourism. So they're usually willing to help out during your renovation. Talk to your city about grants for preserving walls, windows, flooring, or even the old name.
4. Location, location, location.
Restaurants are highly competitive. You have to be visible in just the right location at just the right time to secure the lunch and dinner crowds you need. Make sure it happens by focusing on location, not on the easily convertible buildings in slightly less ideal locations.
5. Buy low and increase the property value.
Restaurant buildings are almost always in demand, especially ones that are contemporary and up to code. If you take an old building that doesn't fit modern commercial purposes and convert it into a restaurant, you've made the property more valuable. That's good news when you want to sell your restaurant, change locations, or make sure you have a solid exit strategy in place.
Talk to Cornerstone FCE Services today to get started with a plan to convert any property into the remodeled restaurant you've been looking for.